Our Concrete molds are High Impact vacuum formed 3/16" ABS Pre-cast Industry standard manufactured especially for concrete pre-casting. These concrete molds will last a lifetime. They are a heavy duty mold manufactured for concrete producers. These are production quality concrete molds!!
Reversed Metal Lettering for Concrete Molds
Allow 7- 14 Business days for all lettering to be manufactured.
This is not a stock item but it is made to order.

Reverse Lettering to Customize Markers & Other Smooth Molds


Stocked Sizes Listed Below, up to 3" Available
Also Numbers, Periods, Commas, Stars, and Ampersands
- White Metal -


Available upon request
Fonts: Sharp Face Gothic REVERSE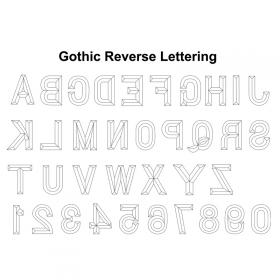 78 pc. set includes:

3 each: A, E, I, N, O, P, R, S, T, 1, 9
2 each: B, C, D, F, G, H, J, L, M, U, W, Y, 2, 3, 4, 5, 6, 7, 8, 0
01 each: K, Q, V, X, Z

Periods & Comma are half price
Ampersands are the same price as letters
Stars: 1/2" .......$2.00 each 1" ........$3.00 each

Other Fonts and Sizes are available - Call for information
518-261-0149