On all qualifying purchases of Pond Supplies over $59.00 or more! Offer valid within the Continental United States
READ MORE
Chengro Koi Food - Chengro Fish Food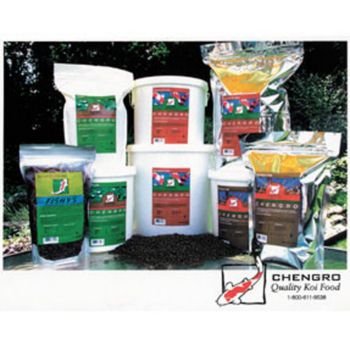 Chengro - Quality koi and Pond Fish Food

Chengro Growth/Color - Chengro Spring/Fall - Chengro Staple/Maintenance
Chengro Fish food we have it all at New lower prices!
Whether you are an experienced koi enthusiast, seasoned water gardener, or newcomer, Chengro is the way to go.

Chengro Staple / Maintenance Pellets
A completely nutritionally balanced floating fish food
that is an economical product for daily feedings of pond Koi and Goldfish.
Contains a unique blend of high quality natural ingredients to promote
good water quality and optimize the health of fish.
34% crude protein.

Chengro Spring / Fall Pellets
Chengro Spring & Fall formula is a natural vegetable and
plant based food that is easily digested when water temperatures are between 50F and 65F.
This special formula contains a unique blend of high quality natural vegetable proteins, amino acids and digestive enzymes.


Chengro Growth and Color Pellets
Chengro Growth & Color formula promotes healthy growth and color
enhancement in all pond fish, from goldfish to competition koi.

This superb formula, the result of years of research, contains the exact amount
of Spirulina necessary to greatly intensify your fish's reds and blacks while maintaining brilliant whites.