On all qualifying purchases of Pond Supplies over $59.00 or more! Offer valid within the Continental United States
READ MORE
Plumbing Supplies-Fitttings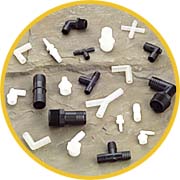 PLEASE NOTE:
WE ATTEMPT TO SUPPLY FITTINGS THAT ARE BLACK IN COLOR WHENEVER POSSIBLE;

HOWEVER,

SOME OF THE FITTINGS ARE ONLY AVAILABLE IN GRAY OR WHITE.
WE OBTAIN OUR FITTINGS FROM SEVERAL SOURCES, THEREFORE, THE ACTUAL FITTING(S) YOU RECEIVE MAY NOT LOOK EXACTLY AS PICTURED, ALTHOUGH THEY WILL BE THE EXACT SIZE ADVERTISED.

THESE FITTINGS DO NOT FIT KINK FREE TUBING.
Our fittings are designed to adapt to the pumps and tubing we offer. When referred to "ID", this means "Inside Diameter". MPT = Male Pipe Thread. FPT = Female Pipe Thread. When putting the tubing over a MPT (male pipe thread) fitting, you will need to increase the tubing size by 1/4".
For example, a 1/2" MPT pump outlet would require 3/4" ID tubing. The other option would be to use an adapter with an appropriate barb connection. For example, a 1/2" MPT pump outlet would require an adapter that was 1/2" FPT x 1/2" barb to accept 1/2" ID tubing.
Barb fittings are sized for inside diameter of the tubing (with the exception of kink free tubing) we offer.