CrystalClear® Algae D-Solv™ Stops Algae Growth - 1 Gallon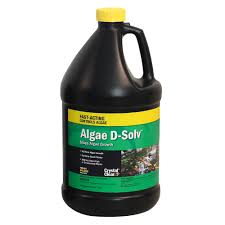 Product Details
Shipping
Video
CrystalClear® Algae D-Solv™ Stops Algae Growth - 1 Gallon
Dosage Rates
| Pond Size (In Gallons) | Algae D-Solv™ (As Needed) |
| --- | --- |
| 360 | 1 Ounce |
| 720 | 2 Ounces |
| 1,440 | 4 Ounces |
| 2,880 | 8 Ounces |
How To Apply Algae D-Solv™
Before using Algae D-Solv™, make sure your pond has 24 hour vigorous aeration such as a fountain, |
waterfall or aeration device.
Without aeration, your fish may be at risk due to decreased oxygen levels, especially during the warmer months.
Heavy Algae Growth: For aquariums and small ponds with heavy algae growth, clean the excess algae off the
sides and ornaments before adding this product. This will reduce the amount of decaying organic matter.
Fountains, Small Ponds with Goldfish & Koi: Algae D-Solv™ can be used in water features that have no
outflow after treatment.
Dilute 1 oz of CrystalClear® Algae D-Solv™ per 360 gallons in a container of pond water.
Pour the solution into the pond in an area with the greatest circulation. For best results use
CrystalClear® Algae D-Solv™ along with
vigorous aeration and follow up with CrystalClear® ClarityMax™ 3 days after CrystalClear® Algae D-Solv™ treatments.
When To Apply Algae D-Solv™
Apply CrystalClear® Algae D-Solv™only when needed for a "Quick Fix" to kill active algae bloom.
Do not apply more than once per week at the prescribed rate.
Restrictions
Do not use Algae D-Solv™ with snails, shrimp, clams and other crustaceans, or mollusks.
Do not use Algae D-Solv™ with any other pond treatment within 3 days of application.
Do not use more than what is recommended for your pond size.
When used in accordance with label directions with vigorous aeration,
Algae D-Solv™ is completely safe for fish, plants, pets and pond wildlife.