Shinmaywa Norus Pump 50CRXP2.75s - 1-HP - 10,000-GPH PUMP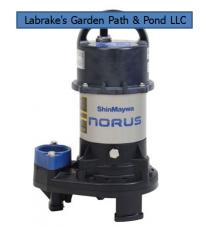 Product Details
Shipping
Video
ShinMaywa - Norus CRXP - 50CRXP2.75S - SS Submersible Pump
1 hp - 10500 GPH @ 5ft - 32ft Cord
The ShinMaywa Norus Series submersible pumps are some of the most reliable and durable pumps sold today.
On the outside it has a unique corrosion resistant hardware design made of stainless steel and poly amide fiber reinforced resin.
In addition, it features a cast aluminum bearing housing, and a vibration reducing bearing design which provides superior heat dissipation and structural integrity in comparison to competing pumps.
The Norus series pumps are the most reliable, highest efficiency, lowest lifetime cost of any pump in its class.
With its ultra long life span, low operating cost, and proven reliability,
makes the Norus series from ShinMaywa your pump of choice for today's water garden market.
High Efficiency Motor Industry leading Class E insulation for long life and low operating cost.
Dual Mechanical Shaft Seals: Silicon Carbide Lower, Carbon Ceramic Upper - Protects motor from water entry
Excellent Corrosion Resistance 304 stainless steel and Poly Amide fiber reinforced resin provides superior corrosion resistance even in hard applications.
Vortex Impeller Design Superior solids handling characteristics, especially with fibrous and stringy materials. Means less cleaning!
Fits in most skimmer boxes
Thermal Overload Prevents motor from overheating due to locked rotor or under voltage
Handles solids up to 1-1/4"
Made in Japan
2 Year Limited Manufacturer's Warranty.
Product Specifications:

Pump Model: 50CRXP2.75S
Horsepower: 1
Volts / hZ: 115 / 60hZ
Maximum Amps: 11
Maximum Watts: 1265
Cord Length: 32ft
Max Head / Shut off: 32ft
Discharge Size: 2" FPT
Flow @ 5ft (GPH): 10,500
Flow @ 10ft (GPH): 8,700
Flow @ 15ft (GPH): 6,600
Flow @ 20ft (GPH): 5,100
Flow @ 25ft (GPH): 3,300
Flow @ 30ft (GPH): 1,200
Flow @ 35ft (GPH): 2,280
Flow @ 40ft (GPH): -
Recommended Best Efficiency Point: (GPH): 15ft Of Total Head Lift
Approximate Dimensions: 18" H 9.3" W x 8.2" D

NEW IN THE BOX / 2 Year Manufacturers Warranty