Matala-Hakko-4-Valve HD Air Manifold - 3/8"s Outlets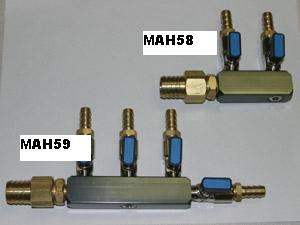 Product Details
Shipping
Video
Matala-Hakko-4-Valve HD Air Manifold
High quality brass fittings.
These Heavy Duty Manifolds are designed to allow high flow rates. The manifolds are availble in 2 way or 4 way. 3/4" inlet connects to air pump or compressor. The mulitple 3/8" outlets will connect to 3/8" air hose.
NOTE !! The outlet fitting of the HK25L through HK100L is a 5/8" diameter. You can connect the 5/8" pump outlet directly to the 3/4" manifold inlet with a short piece of 5/8" or 3/4" hose ( supplied with air pump). However, the 2 way or 4 way maniflod oultets are only 3/8" so you must reduce down to 3/8" hose to feed your air diffusers. The HK120L outlet fitting is 1". You will need a reducer hose from 1" to 3/4" (supplied with HK120L) in order to connect the HK120L to the manifold inlet. And then use 3/8" hose to feed your air diffusers.