On all qualifying purchases of Pond Supplies over $59.00 or more! Offer valid within the Continental United States
READ MORE
Pond Aeration, Hakko,Matala, Pond Aerator Kits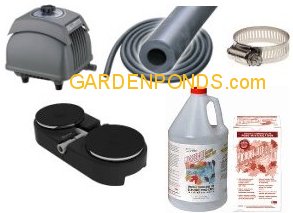 Note: Not all kits contain these exact products
Our Hakko Complete Pond Aeration kits includes a Hakko Air Pump, Air Base Diffuser and 5/8 Inch Self Sink hose, SS Hose Clamps ..plus a container of Microbe-Lift Autumn Prep.

High air volume aeration system designed to give your pond fish a constant flow of oxygen, the most important element for your fish pond or water garden.

Hakko pond aerators paired with Matala Air base units will provide a huge column of air bubbles bringing oxygen depleted water to the surface, breathing new life into your pond.
Microbe-Lift Autumn Prep is Specialty Formulated for Pond Winterization
to provide you with the an effective method of winter pond maintenance.