On all qualifying purchases of Pond Supplies over $59.00 or more! Offer valid within the Continental United States
READ MORE
Aquascape UltraKlean Filtration Kits - with Ultraviolet Clarifier/Sterilizer
Aquascape UltraKlean™ Filtration Kits take the
guesswork out of selecting the correct pump and filtration combination
for any new or existing pond.
Available in three sizes and two configurations, there is an UltraKlean
filter kit for almost any pond configuration.

Buying a filtration kit is simple and provides the best overall value as components are selected by Aquascape not only for size of pond, but also matched components that will work well together as a team.

See Individual kits for "what comes in the box"!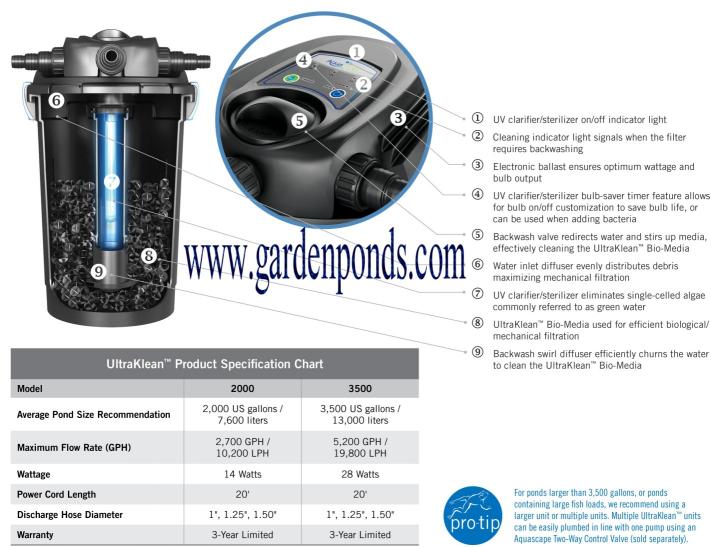 $639.98

Free $25 LaBrake's
Bonus Gift Certificate

SKU: AQS95058

$695.98

Free $25 LaBrake's
Bonus Gift Certificate

SKU: AQS95059

$919.98

Free $25 LaBrake's
Bonus Gift Certificate

SKU: AQS95060
$639.98

Free $25 LaBrake's
Bonus Gift Certificate

SKU: AQS95058

$695.98

Free $25 LaBrake's
Bonus Gift Certificate

SKU: AQS95059

$919.98

Free $25 LaBrake's
Bonus Gift Certificate

SKU: AQS95060
$639.98
Free $25 LaBrake's
Bonus Gift Certificate
SKU: AQS95058

$695.98
Free $25 LaBrake's
Bonus Gift Certificate
SKU: AQS95059

$919.98
Free $25 LaBrake's
Bonus Gift Certificate
SKU: AQS95060