Our Concrete molds are High Impact vacuum formed 3/16" ABS Pre-cast Industry standard manufactured especially for concrete pre-casting. These concrete molds will last a lifetime. They are a heavy duty mold manufactured for concrete producers. These are production quality concrete molds!!
Concrete Molds-Verse Information-Concrete Molds Catalog
Article written by Jack J LaBrake
Published in the Sept. 2007 issue of Concrete Today Magazine
"Ornamental Express" Magazine segment
Over the years I have found the most frequent customer request in the Ornamental Concrete Mold Industry has been "Can you make me a custom mold?"
"I'd like one with our school logo or High School Mascot, a picture of my pets breed, something with our State seal on it", etc.
The request list is a long one to say the least as everyone has an idea for a stepping stone or a garden bench that will surely sell or perhaps one that will grace their home and garden or a personalized memorial at the final resting place of a family member or special pet.
In the past the answer to that question for the most part, due to one reason or another, but mainly cost, has been "no".
Well, in a world where things change daily for better or worse it's still good to see that some things change for the best because the answer to that question is now "Yes, we can. "What do you have in mind?"
You can finally add beautiful lettering, numbers, unique heartfelt verses and a vast array of most other artwork for all your concrete projects such as stepping stones, benches, patio tables, pet memorial markers and numerous other projects. Simply place our custom made rubber inlays in your mold, pour your concrete, and it's done. It's just that simple. HONEST!!!

Now by taking a plain smooth mold and simply adding our Heavy Duty reusable rubber letters and numbers (up to 6") or reusable inlays of your artwork (custom sizes of course) you can change the plain and boring into almost anything imaginable. From plain letters and numbers, or custom Fonts of your choosing no less, Sports logos, Mascots, every design or art work you have ever wanted on a flat concrete mold:
Garden Bench top, paver, or ornamental stepping stone can now be done.
Here's how it's done...
2. Put a light coating of release into your mold. We use a Castor Oil based release and it works great. A little release goes a long way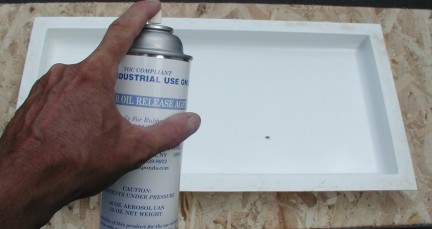 Click to enlarge photograph
3. Brush a light coat of petroleum jelly (Vaseline works fine) on the back of the rubber inlay and place it in mold with the smooth dull side facing down and the shiny side with the lettering or Artwork facing up. This will enable the rubber piece to stick to the mold to hold it in place. It should be firmly attached to the mold. If it seems to slip just add more petroleum jelly.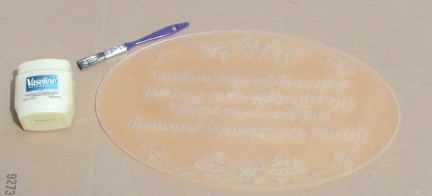 Click to enlarge photograph
4. For stepping stones or other small castings, mix 1 part Portland cement to 3 parts sand or just use premixed "Sand Mix" from the local hardware store. Do not use "Mortar Mix" as it is to fine and do not use "Concrete Mix" as you don't want any aggregate (pea gravel) in the mixture.
Add water and mix until mixture is slightly fluid for pouring.
5. This is by far the most important nugget of knowledge you will ever get in the ornamental concrete business.

Fill a small spray bottle with water and about 20 drops of any liquid soap. Just before pouring the concrete mix into the mold, spray a light mist of water and soap over the rubber inlay. This will help avoid air bubbles in your casting.
If you forget to use the water you will have bubbles in your casting even if you vibrate your mold.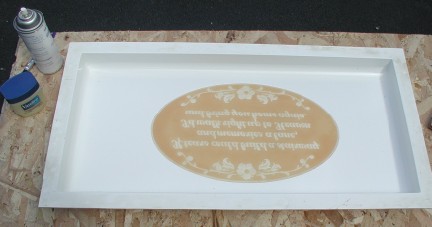 6. When the concrete has dried (24 hours is adequate) and you de-mold the casting simply use a pin to stick into the rubber inlay and pull up. Once the rubber starts to come out, simply grab it with your fingers and pull it out of the mold.
Let the piece dry as you normally would and finish it however you desire.
Click to enlarge photograph
(PHOTO #9 just shows another bench verse poured & finished if your interested in it)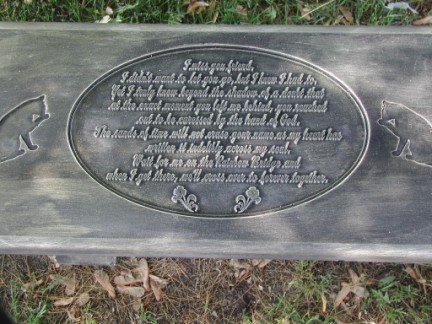 Click to enlarge photograph

7. Clean the rubber pieces with warm soapy water, let them dry, and then store them lying on a flat surface or pressed between 2 pieces of cardboard. If cleaned and properly stored this way you should get hundreds of pours.

Well that's the procedure and it works great. Now for another exciting bit of news related to this process. In the near future we will also be able to supply you with not only the rubber letters, numbers, verses, and other assorted artwork… but in colored Ceramic also, but that's another story.