Hikari Gold Large Pellets 11-Lbs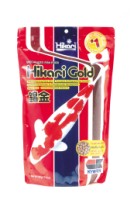 Product Details
Shipping
Video
HIKARI GOLD LARGE PELLETS 11 LBS
Hkari® Gold™ is a daily diet, developed through years of koi breeding and showing, to meet the nutritional needs of koi while providing excellent color enhancement. Hikari® Gold™ will bring out the best in your koi and bring you the success you've dreamed of!

Key Benefits Floating Pellet That Will Not Cloud The Water Allows easy monitoring of amount eaten Helps eliminate over-feeding Reduces water quality problems More economical Color Enhancement High in carotene, a natural color enhancer Brings out natural, brilliant colors Reduces washed out colors Contains Stabilized Vitamin C Promotes resistance to stress Promotes resistance to infectious disease Promotes a long, healthy life Excellent Daily Diet Outstanding nutrition High protein levels Improved growth rates & form

Guaranteed Analysis:

Crude Protein 40% Min. Crude Fat 4% Min. Crude Fiber 4% Max. Moisture 10% Max. Crude Ash 12% Max. Phosporus 1% Min.

Typical Analysis:

Crude Protein 42% Oil 4.8% Fiber 2.2% Ash 10% Phosporus 1.5%

Ingredients: white fish meal, flake corn (processed), wheat flour, gluten meal, soybean meal, enzyme, monosodium glutamate, garlic, astaxanthin, DL-methionine, vitamin A supplement, vitamin D3 supplement, vitamin E supplement, menadione soidum bisulfate complex (source of vitamin K), thiamine mononitrate, riboflavin, pyridoxine hydrochloride, l-ascorbyl-2-polyphosphate (stabilized vitamin C), calcium pantothenate, biotin, inositol, niacin, choline chloride, folic acid, manganese sulfate, zinc sulfate, ferrous sulfate, magnesium sulfate, cobalt sulfate, calcium iodate, aluminum hydoxide

Additives:

Vitamin A - 15,000 IU/kg Vitamin C - 100 mg/kg Vitamin D3 - 3,000 IU/kg Vitamin E - 300 mg/kg Vitamin K - 4.8 mg/kg

Feeding Suggestions: When your water temperature is consistently above 60 degrees but below 70 degrees, feed one to two times daily. When the water temperature stays above 70 degrees, feed two to four times daily. Warmer temperatures translates to more activity and the need for more food. Always remove all remaining food after the feeding period to avoid over-feeding and the water quality problems associated with this action.