Crystal Clear Algae-Off 25-Lb,Algae off by Crystal Clear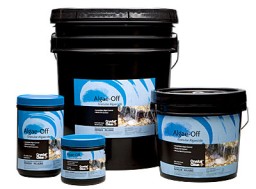 Product Details
Shipping
Video
ALGAE-OFF (Formerly D-SOLV OXY CLEANER) 25-lb
CrystalClear® AlgaeOff™ Dosage Rates
Surface Area
(In Square Feet)
AlgaeOff™
(As Needed)
25 – 50 Square Feet
1/4 cup
51 – 100 Square Feet
1/2 cup
101 – 150 Square Feet
3/4 cup
151 – 200 Square Feet
1 cup
201 – 250 Square Feet
1-1/2 cups
When To Use AlgaeOff™
CrystalClear® AlgaeOff™ can be used as needed. For best results use when algae is actively growing.
How To Use AlgaeOff™
Turn off water pumps and fountains before applying CrystalClear® AlgaeOff™. Apply granulars directly on to damp, infested areas. Let it set for 15-20 minutes before turning on pumps. Remove any debris after treatment and wait at least 48 hours if second treatment is required.

For liquid applications, please follow all label instructions. Due to solubility, AlgaeOff™ is not as effective with this application method.