Pond Logic® Ultra PondWeed Defense® Aquatic Herbicide 1-quart (530144) - by Airmax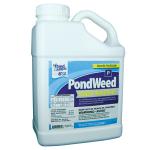 Product Details
Shipping
Video
State Restrictions:
PondWeed Defense® can not be shipped to Alaska, California, Connecticut, District of Columbia, Hawaii, Maine, New Jersey, New York, Puerto Rico, Rhode Island or Washington or Canada

Broad Spectrum Pondweed Control
Fast Acting Liquid Formula
Short Term Control Of Duckweed

Pond Logic® Ultra Pondweed Defense® works on pond weeds including submerged, floating and emergent weeds. It may be used for short term control of Duckweed in slow moving water. Use all season-long on actively growing plants for best results. Early season emergent treatments may require additional applications.