Airmax - Pond Logic clearpac with algae defense (700100) - by Airmax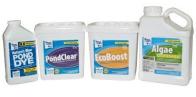 Product Details
Shipping
Video
State Restrictions:
Algae Defense® can not be shipped to Alaska, California, Connecticut, District of Columbia, Hawaii, Maine, New Jersey, New York, Puerto Rico, Rhode Island or Washington.
*Algae Defense CANNOT be used in ponds with koi or goldfish*
The Pond Logic® ClearPAC® ends the guesswork of pond management by combining 4 essential pond maintenance products into 1 complete pond care package.
The Pond Logic® ClearPAC® allows pond owners to eliminate algae, improve water quality, reduce pond muck, promote fish health and maintain crystal clear water in 4 simple steps.
Contains 1 each of:
Algae Defense® 1gal,
PondClear™24/pk,
EcoBoost™,
Nature's Blue™ pond dye 1qt,