Ani Mate Fishmate UV/Bi0Pond Filter 3000-Gal. /16-Watt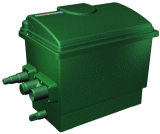 Product Details
Shipping
Video
FISHMATE UV/BIO-POND FILTER 3000-GAL/16-WATT

Fish Mate Gravity Fed Bio Filters with UV feature a powerful 3 stage mechanical and biological filtration system.
The designs of Fish Mate UV + Bio filters guarantee crystal clear, purified water with minimal maintenance, all at a fraction of the cost of conventional filter systems.
Sponge pads collect algae and catch large particles.
Supra bio media rapidly colonises beneficial bacteria to remove nitrite and ammonia from the pond.
Easier filter maintenance due to a flip up lid on top. Bio Gravity Fed Filters w/UV must be placed next to the pond or on top of a waterfall.

Medium 16 Watt UV Bio Pond Filter

Max. Pond Size - 3000 gal.
(Full Shade w/waterplants/*Average Fish Stocks)

Flow Rate - 1000 GPH

UV Light - 16 Watts

Type - Gravity Fed External

Inlet / Outlets(s) - 3/4"- 1 1/4" / 1 1/2"

Dimensions (L x W x H) - 19" x 10 1/2" x 13 1/2"

Recommended Pump - Fish Mate 1500

Cord Length - 16'

Warranty - 3 Years
*Average Fish Stock- Less than 10" of fish per 100 Gallons
*High Fish Stock - Koi or more than 10" of fish per 100 Gallons

1. Multisized inlet: 3/4", 1" or 1 1/4"
2. Easy to replace UV tube.
3. High efficiency UV reflector.
4. Large capacity, slow flow UV chamber ensures efficient alage clumping and actsas primary settlement chamber.
5. 4 x filter sponges for mechanical filtration (supplied).
6 Secondary settlement chamber with drain for easy sludge removal.
7 Fish Mate Supra biological filter media (supplied).
8. Removable media tray allows easy filter maintenance.
9 Hinged lid allows easy access.
10.1 or 2 outlets. Maybe extended with 1 1/2" hose if required.
11.Power cable fitted.