3 Semi-Polished Stone Basalt Columns - 12"H / 20"H / 27"H Aquascape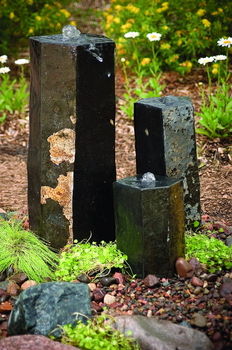 Product Details
Shipping
Video
3 Semi-Polished Stone Basalt Columns - 12"H / 20"H / 27"H-by Aquascape Deigns
Three columns, partially polished make for a great accent to your home when water bubbles over.

Recommended pump size 2000 gph.

#98264 Stone 3 Semi-Polished Columns

Small 12" H, Medium 20" H, Large 27" H.
To complete your system:
AquaBasin Large - 98134
#98410 AquaBasin 3-Piece Plumbing Kit
Shipping via Motor Transport to your residence
is included in the price.
It also includes a telephone call from the transport Company to arrange
a delivery appointment and a LIFT GATE delivery.
If your looking for a large water feature it doesn't get any easier than this.