Aquasurge Adapter Kit for Check Valve Assembly by Aquascape
Product Details
Shipping
Video
Use the AquaSurge Conversion Kit SKU #29705 to connect the 1.5" Female Threaded Outlet to either 2" or 1 1/2" Check Valve Assemblies.

The AquaSurge Conversion Kit contains the parts necessary to convert any AquaScape Pro pump
to the AquaSurge Pump using your existing Check Valve Assembly and Aquascape Skimmer.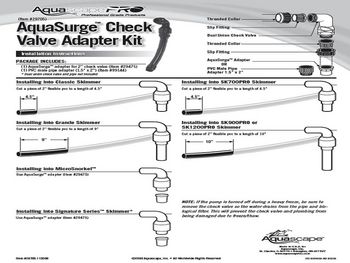 The kit includes two parts - one you will use and the other you will not need:

1 1/2" Male Thread x 2" Slip adapter for Classic Series Skimmers and Check Valves.
All you do is cut off the 2" Black Flexible PVC pipe between the check Valve and the pump.
Screw the 1.5" male Threaded Part into the pump and glue the existing 2" Flexible pvc into the other end of the adapter.
- OR -

2" Aquascape Check Valve Adapter for Signature Series Skimmers and Check Valves.
Has a 1.5" Male Threaded Part to screw into AquaSurge and 2" Aquascape custom-made Flange to fit into Aquascape 2" check valves.
Just throw away old part.

The AquaSurge 2000 has a 1" Male Thread Discharge and comes with a 1" x 1.5" Male Adapter. All of the other AquaSurge pumps have a 1.5" Male Thread Discharge.
See the "how to Video's below"
Video showing Conversion from Aquascape Pro pump to Aquasurge pump with Classic Series Skimmer:
Video showing Conversion from Aquascape Pro pump to Aquasurge pump with Signature Series Series Skimmer:

Aquasurge Pump Instructions
Questions: call us toll free: 877-909-5459