Blue Ridge,Color, 5-Lb Regular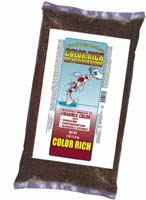 Product Details
Shipping
Video
FISH FOOD COLOR FISH FOOD 5 LBS REGULAR PELLET


This is the same proven formula that the Fish Hatchery has been using in their hatchery operations.

The same scientifically correct professional fish feeding formula that enables them to commercially produce, maintain and distribute Koi, pool fish and goldfish.

These pellets are designed not to disintegrate and float for a long time. Contains 36% protein and color enhancers. Unchallenged value : Nothing even comes close. A high quality economical alternative to our other foods. Developed and used by professional fish hatchery men. Does not disintegrate and floats for a very long time. A complete diet with stabilized vitamin C. Choose from mini and regular pellet size.