Savio Filter/Waterfall Weir 31 In.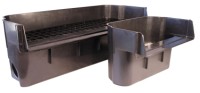 Product Details
Shipping
Video
Savio 31" Waterfall Weir
Creates 31" Wide Waterfall
The Savio FilterWeir™ 31 allows you to quickly add the tranquil sound and visual splendor of a cascading waterfall to any pond or water feature.
This unit also provides supplemental filtration- to keep your pond cleaner & healthier.
Install in concrete or liner ponds - no silicone glue is required.
Recommended for pump flows up to 10,000gph.