Odyssey Muck-Vac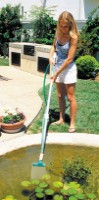 Product Details
Shipping
Video
ODYSSEY MUCK VAC
Complete system includes:
(This unit requires minimum 50 PSI garden hose water pressure
It will not work without the correct water pressure.
Use a water meter if in doubt.
Muck-Vac power head
Vac head with brush
Telescoping pole-6 ft. max.
Vacuum hose-10 ft.
Vacuums Muck and Fish Waste. Ideal for Ponds, Fountains, Spas and Small Inground Pools or Vinyl Kiddie Pools. Will not cause turbidity in pond. Easy to use - no moving parts.