Tetra Pond Vacation Pond Food 3.45-oz.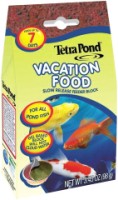 Product Details
Shipping
Video
VACATION FOOD
Nutritionally balanced slow release food feeds up to 7 days. For all pond fish.
* Patented gel-based diet with natural ingredients
* Does not cloud water when used as directed
* Precise amounts of select vitamins and nutrients help support fish's immune system.
* Fish will eat from the block as they are hungry.
* Net Wt. 3.45 oz.
* The feeder block is contained in a 2.5diameter by 1.2high tin.