Green Clean Algaecide 8-Lb. Pail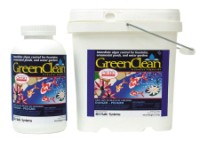 Product Details
Shipping
Video
GREEN CLEAN 8-LB PAIL
Green Clean works by oxidation and provides immediate control of algae in ponds, fountains, and other water features.
You'll see visible results within minutes.
Safe and effective Green Clean is non-toxic to fish or plants and is biodegradable.
One pound (2 cups) treats about 4000 gallons. OMRI certified organic.