Farm Innovators Floating Pond De-Icer 1250-Watts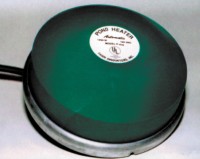 Product Details
Shipping
Video
DE-ICER KIT WITH THERMOCUBE

Model P418 1250-Watts of Power
The most durable heater-deicer on the market
Thermostatically controlled to operate only when necessary
Operates automatically only when air temperature falls below 35ºF
Element is encased in Cast Aluminum for Durability, Safety and Efficiency

For use in ponds of 50 to 600 gallons. Over 600 gallons use 2 P418s and follow instructions

10' Power supply cord

Fish & plant friendly

SAFE IN ALL PONDS - No Guard Required

Designed to keep a small hole open to release harmful gasses

7 Diameter - Solid Aluminum and Plastic Construction

Three Year Limited Manufacturers Warranty

Easy to use; Just plug in your Floating Deicer and float it on your pond dome side up. If your pond is already ice covered, drill a hole with an ice auger and place the Floating deicer over the hole. If the ice is only 1 or 2 inches thick, place the Floating Deicer on the ice and it will melt its way through. Do not chop through the ice in smaller ponds as the shock waves can damage or kill your fish. Always keep safety your number one priority. Never walk on thin ice. Try to position your Floating deicer within arm's reach or shore to avoid walking on thin ice.

The Floating deicer is recommended for ponds up to 600 gallons. Please use two Floating Deicers for ponds over 600 gallons or for ponds requiring extra gas exchange due to excessive plant decay or large quantities of fish under the ice.

Full Manufacturers Instructions should be followed. This unit should be plugged into a GFCI outlet or device for safety.



The Floating Deicer is not designed to heat the water.