Garden Bridge - Hi Rise - Low Rail - 14 ft.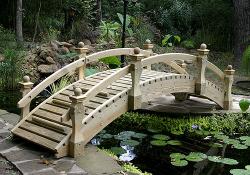 Product Details
Shipping
Video
Hi-Rise Low Rail Post 14'/8
A busier design with six or eight posts and a higher single rail. High profile, beautiful finials, carved posts and rail braces are the highlights of this bridge.


Bridges shown in photos are our 12 foot models and shown for illustration purposes only.


Rail heights above walking surface are the same for all bridge lengths:

Low Rail = 12 (Rails for decoration only)

High Rail = 20 (Rails to protect a child)

Double Rail = 35 (Rails an adult can use)

All bridges are 35 wide at the walking surface and 42 wide overall.