On all qualifying purchases of Pond Supplies over $59.00 or more! Offer valid within the Continental United States
READ MORE
Pumps-Sequence Valuflo 1000 Series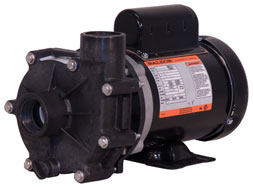 Sequence ValuFlo 1000 Series External Pond Pumps
The 1000 series has set the standard by which all others are measured.
Perfect blend of medium pressure and ample flow for the majority of ponds.
Motor is totally- enclosed fan-colled for durability. 115V or 230V.
18 month limited warranty.
Supplied with an 8-foot cordset.
Made in the USA.

Model

Max

Flow

GPH

Max

Head

Feet

Max

Power

Watts

Max

Current

Amps

Flow

4'

8'

12'

16'

20'

Voltage

Motor

Enclosure

SEQVF100033

3300

21

206

1.9

GPH

3180

2820

2340

1860

1140

115

TEFC

4500

21

250

2.2

4140

3600

3000

2220

960

115

5100

22

293

2.6

4740

4200

3540

2760

1500

115

6100

366

3

5700

5100

4440

3540

2340

115
---
The motor is totally-enclosed, and fan-cooled for durability.

Standard 115V
8-foot cordset
Made in USA
1 1/2" Inlet/Outlet
24 Month Limited Manufacturer's Warranty