On all qualifying purchases of Pond Supplies over $59.00 or more! Offer valid within the Continental United States
READ MORE
Pumps-Sequence Primer Champion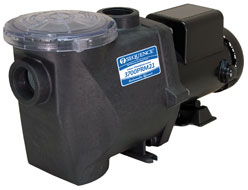 Sequence Premier Champion Model
The all in one!
The Premier Alphs series integrates a basket-type pre-filter and self-priming capabilities into one efficient package for trouble free operation.

Since an internal diffuser allows for displacement of trapped air, this type of pump will continue to move water even when there is some air in the line.
The integrated strainer basket on all the primer units helps protect the internal rotating parts of the pump from damage due to external debris being pulled into the pump, i.e. branches, leaves, etc.
The simple cover allows for quick cleaning and replacement.
Because the unit can operate for short periods of time without full water flow, it provides a small cushion of comfort to the owners of those systems where the water level drops below the intake point.
Motor is totally-enclosed, fan-cooled for durability.
3 year limited warranty.
Made in the USA. 115V or 230V. 8-foot 115V cordset included.
Model

Max

Flow

GPH

Max

Head

Feet

Max

Power

Watts

Max

Current

Amps

Flow

4'

8'

12'

16'

20'

Voltage

Motor

Enclosure

SEQPRM37

3700

21

228

2.76

GPH

2940

2520

2040

1380

240

115

TEFC

SEQPRM49

4900

21

310

3.37

GPH

4440

3960

3300

2580

1440

115

TEFC

SEQPRM66

6600

24

457

4.61

GPH

6000

5400

4740

3900

2940

115

TEFC