On all qualifying purchases of Pond Supplies over $59.00 or more! Offer valid within the Continental United States
READ MORE
Pumps-Sequence Power Primer Model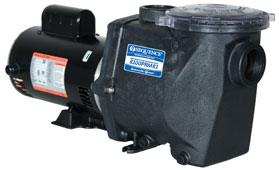 Power Primer Model
Accelerate your sysyem with another self priming high speed power series configuration. If you have an application requiring self priming, immense flow, and high head pressure capabilities, this series is the solution for you.
The Sequence Power series is made for those demanding applications where the constraint for high pressure is NOT subject to negotiation!
Made in the USA.
8-foot 115V cordset included.
Model

Max Flow

GPH

Max

Head Feet

Max

Power

Watts

Max

Current

Amps

Flow

10'

20'

30'

40'

80'

Voltage

Motor

Enclosure

SEQPRM63

6300

77

1496

8.7

GPH

5880

5340

4200

2700

0

230

TEFC

SEQPRM81

8100

81

1807

9.8

7620

7020

5700

4080

600

230

TEFC

SEQPRM93

9300

83

2222

11.4

GPH

8820

8220

6840

5100

1980

230

TEFC