On all qualifying purchases of Pond Supplies over $59.00 or more! Offer valid within the Continental United States
READ MORE
Pumps-Sequence-750 Series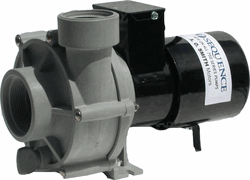 The popular 750 series provides flow rates from 600 gph to over 4200 gph and pressures up to 12 feet maximum, perfect for ponds up to 2500 US gallons.


The pond enthusiast's favorite 1000 series can push water from 1200 gph to over 5400 gph and pressures up to 23 feet maximum.

External Sequence pond pumps are manufactured to quality standards that meet the most stringent of investment requirements.
Compact model that delivers big flow for little power. Ideal for smaller and simple ponds (3000 gallons or less).
Motor is totally enclosed fan-cooled for durability.
2" FNPT intake; 1.5" FNPT discharge outlet.
Housing is molded of high strength, glass-filled polypropylene.
EXTREMELY QUIET operation.
Dry run resistant mechanical seals.
Stainless steel hardware is standard.
3.3" motor.
Pre-wired with an 8-ft cordset and 11 5V plug. 3 year limited warranty.

When there other choice than to put the pump above the water level, the unit must be "primed."
This means that water must be introduced into the pump and the lines in order for the system to create a way for the pump to get new water into it.
There are many ways this can be done however, this method is very simple and will help make the priming process less of a headache.

$403.00

SKU: SEQ742
$403.00

SKU: SEQ742
$403.00
SKU: SEQ742