On all qualifying purchases of Pond Supplies over $59.00 or more! Offer valid within the Continental United States
READ MORE
Pumps-Sequence Model 4000 Series Pumps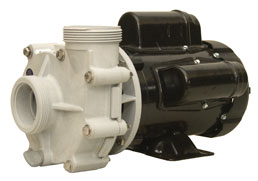 The leader in high efficiency, external pumps for water features and Koi ponds.

Lowering Carbon Footprints by delivering high performance with low power.
Expect quality, durability, and efficiency in pump technology from MDM.
Producing pumps for applications ranging from the simple Koi ponds to large industrial-size water gardens.
Whether the application is a small backyard project or a large industrial project, it is an
INVESTMENT and it is important to consider the TRUE COST of ownership.
Obtaining the best quality pump is the smartest added value to put into a project now and for the future.
SEQUENCE PUMPS are the leader in high efficiency and performance.
Their longevity is legendary and their overall value is benchmark.
4000 Model
Introducing the NEW Sequence 4000.
The new expansive design will meet today's increased market demand for performance on all levels.
Every Sequence 4000 model is supplied complete with 2" FNPT and buttress thread ports and unions for ease of use.
3 year limited warranty.
Made in USA.
Supplied with an 8 foot, 115V cord-set.
Model

Max

Flow

GPH

Max

Head

Feet

Max

Power

Watts

Max

Current

Amps

Flow

4'

8'

12'

16'

20'

Voltage

Motor

Enclosure

3600

20.5

227

2.3

GPH

3120

2640

2100

1400

240

115

TEFC

5000

20.2

283

2.96

GPH

4500

3840

3120

2160

120

115

TEFC

5800

21.0

283

2.96

GPH

5220

4500

3720

2760

960

115

TEFC

6840

22.2

376

3.7

GPH

6240

5580

4800

3840

2250

115

TEFC

8220

22.3

450

4.4

GPH

7500

6720

5760

4680

3120

115

TEFC