Alpine Pond Lights, Transfomers by Alpine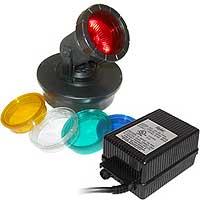 ALPINE POND LIGHTS
Alpine Pond Lights offer a wide variety of lighting solutions tailored to your customers' specific needs.
The entire Alpine Pond Lighting line includes both halogen & LED lights, along with solar powered units and submersible pond lights.
These Alpine pond Lights are perfect for fountains, ponds, waterfalls and garden landscapes.
In addition, most of our Alpine Pond Lights come with a 2 year warranty, interchangeable lenses, garden stakes and the ability to chain multiple lights into a single transformer.