On all qualifying purchases of Pond Supplies over $79.00 or more! Offer valid within the Continental United States
READ MORE
Filter Media - Poly-Flo - Bulk Pond Filter Material
Bulk Pond Filter Material / Filter Media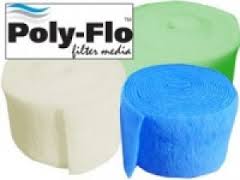 Americo has been the prime manufacturer of nonwoven biological and mechanical filter media for
the U.S. pond and aquarium industry for over 10 years.

Their Poly-Flo filter media, a component of skimmer, waterfall and aquarium systems, is integral to promoting a healthy ecosystem for ponds and aquariums.
Poly-Flo Biological filter media has been designed to be contain high surface area for beneficial bacterial colonization, resists clogging and channeling, is durable, long lasting and UV resistant. Their Mechanical filter media is designed to trap debris while allowing a high volume of water to pass through.
Their material is tested by an independent bioassay lab to make certain is non toxic to fish.

Bulk Pond Filter Material In various thickness, colors and density of the weave/material.

By the Foot - by the Mini Roll - or a Large Roll
All ship free!

Suitable for use as biological and/or mechanical filter substrate.
Available in 56" width and sold per foot and the 10' and 20' roll
Free Shipping